Discovering the magic behind these stunning marketing experiences
MASTER THE TRICKS, EXPLORE THE BACKSTAGE
What's in the backstage of the content-creation machinery?
Discover the main principles of the process. From the Car Model Repository, you will access all the compliant 3D data features for creating amazing experiences showcased in the use cases.
Engineers, let's look at the major features of the Machinery.
Calculator of high quality, compliant renderings in all formats & media
Photorealistic details and configurability are defined in line with the factory's possibilities, and your process can be automated with scripts.
The Digital Aspect Mockup (DAM) is then used for all purposes.
Your digital vehicle model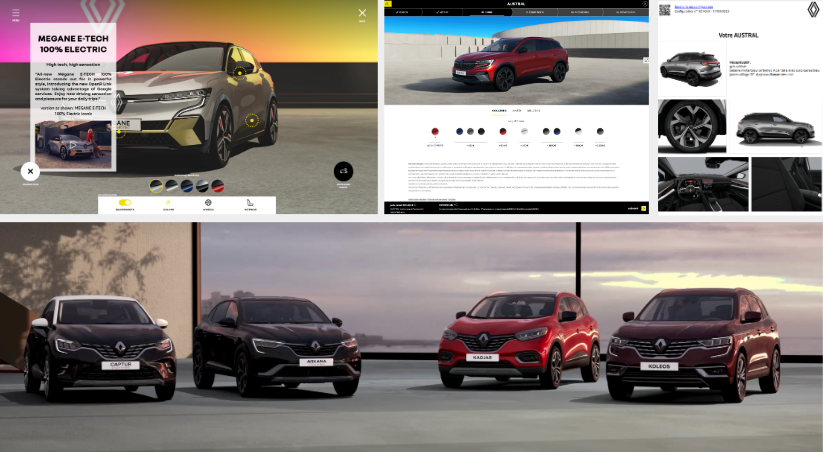 Animations and videos to launch new products
Several calculation engines are available from the most interactive to the most realistic. From a single workstation to a cluster of servers, photorealistic HD images and videos are computed using the DAM of compliant vehicles.
Visuals conforming to the vehicle
Central repository to easily create & update vehicle catalogs
The Car Model Repository (CMR) is an online central repository for DAMs where the entire range of vehicles can be managed. This service ensures the distribution of DAMs or 2D visuals to all local or remote uses.
Centralized vehicle management
3D and 2D all the way…
User applications can access the DAM through the Car Model Repository to render 3D on a device, providing an interactive user experience.
Applications can request the CMR to generate visuals to reduce the impact on device and network resources.
Cached visuals are available for improved responsiveness.
3D or 2D user experiences
A la carte configurability
The factory configurability is determined during DAM authoring and can be filtered or limited based on its intended use. Option packs can be created by combining basic factory configuration options.
The configuration is also a raw material.
Creator of configurators for unique experiences
Configurators provide a visual exploration of vehicle customization options with user-defined limitations. They present a subset of commercial customer options with the full range available for marketing review.
They can be integrated into websites or mobile apps, and visuals are compliant, provided by the repository, or generated in real-time on the device.
Applications for digital showrooms
Our SDK allows you to develop stunning custom applications for web, mobile, or computer, including a kiosk for trade shows or stores. Quality of rendering, interactivity, performance, and centralized data update are all available.
Virtual & augmented realities for immersive experiences
Our applications provide an immersive experience in VR and AR, allowing you to interact with 1:1 scale vehicles using headsets, screen walls, or CAVEs. Collaborative VR sessions also can be conducted remotely. The mobile SDK lets you design your own AR application.
Application for scene setting for all collaborators
Our Photo Studio application enables marketing and communication teams to generate tailored visuals without requiring technical expertise. It is ideal for various purposes, such as web banners or advertisements. As with all DAM uses, the visuals generated are automatically compliant.
Want to know more about the inner workings of the machinery?